Return to Headlines
May 27, 2021 | Westside Employees Honored With Awards
Posted May 27, 2021
Westside Community Schools employees throughout the district were honored Thursday as the 20/21 school year came to a close. Congratulations to all award winners, especially Jeremy Stoll at Westside High School and Mary McPadden at Oakdale Elementary, honored with the prestigious Schrager Distinguished Teaching Awards.
The Phillip and Terri Schrager Foundation graciously presents the Schrager Distinguished Teaching Awards and $12,500 to two Westside Community Schools educators, Mary McPadden and Jeremy Stoll. Congratulations to these incredible teachers who, through exemplary teaching and devoted service, have positively influenced the lives of countless young people.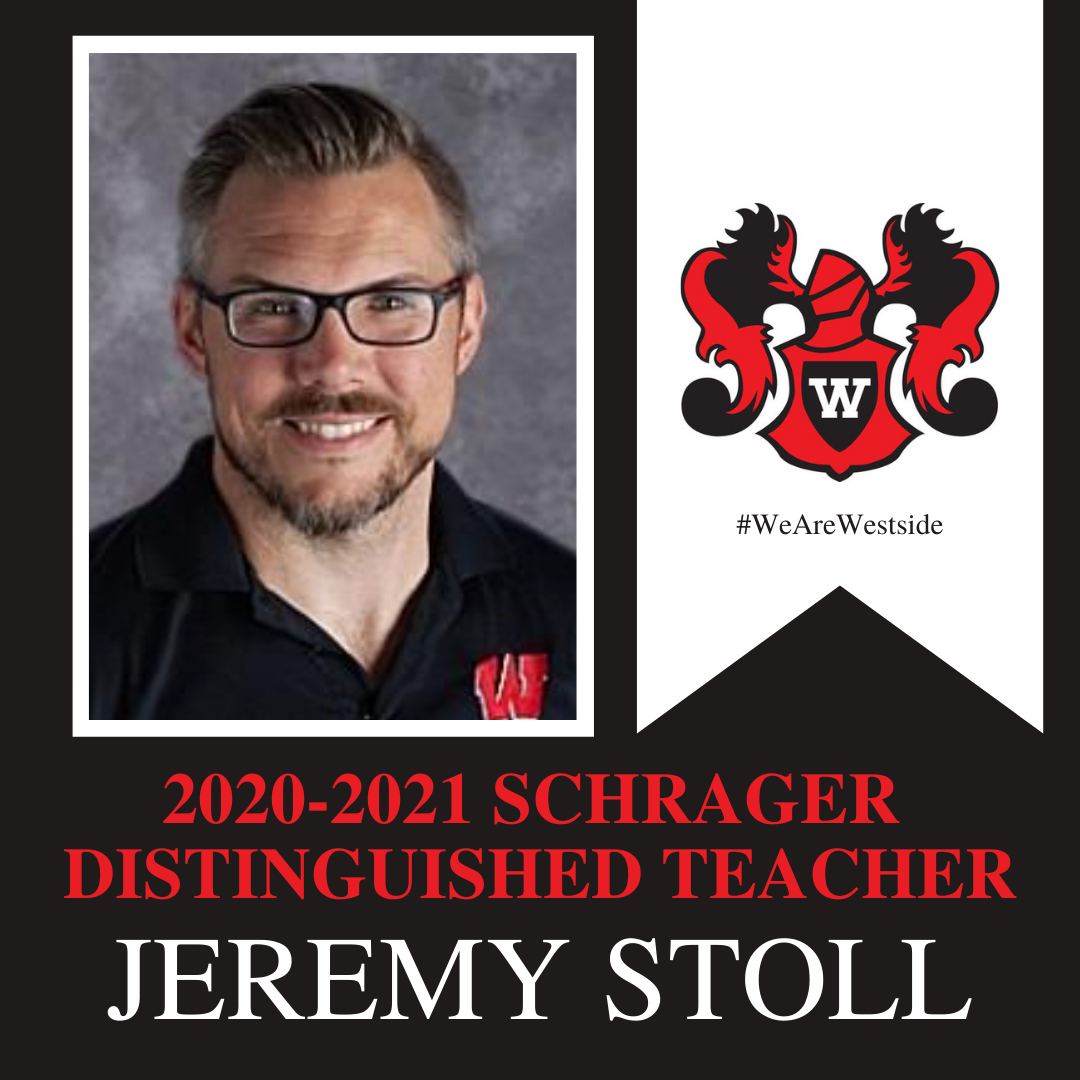 JEREMY STOLL, WESTSIDE HIGH SCHOOL
Jeremy Stoll, a master teacher known for developing extraordinary talent through the art of theater, has earned districtwide respect and admiration. As the Theatre Director and Teacher at Westside High School, Mr. Stoll has impacted hundreds of students by promoting inclusivity and appreciation for all throughout his productions and classroom environments. He encourages all students to be their best, accepting them for who they are and where they are, while coaching them on their journeys forward regardless of what those may be. Mr. Stoll is known for inviting and embracing all students, from traditional school leaders to those who might otherwise feel that they do not belong. Students have often shared how they sought out Mr. Stoll's classes hoping to find their school 'home', and then emulated his welcoming nature and acceptance of all students. Westside High School Theater is frequently described as one of the 'safest' emotional spaces in the building, due to Mr. Stoll's leadership and teaching style. A student said, "I have met a lot of people I never would have interacted with. Jeremy Stoll creates a sense of community."
Mr. Stoll has gone beyond simply understanding the social/emotional needs of learners; he has pursued graduate work to further investigate the relationship between the content area, education, therapy, and personal development. The result of this in-depth study on Mr. Stoll's part was a new course in which students use a variety of strategies to gain positive life experiences, reactions and attitudes. These are not only teaching moments in the classroom; they can be used as coping mechanisms in future real-world situations that otherwise may have caused struggle or anxiety. Jeremy Stoll's work and impact continues year-round, and often means hours of extra work each day after the traditional school day ends. This educator supervises students when they participate in festivals over winter break and throughout the summer. He hosts learning experiences for younger students throughout the district. Throughout the year, Mr. Stoll spends evenings and weekends working with students to produce a musical, a full-length play, a one-act play, and a senior student-directed showcase. While many of Jeremy Stoll's students have and will go on to pursue theatre-related careers, nearly all have said the lessons learned in his classes will positively impact their lives. This ongoing legacy proves Jeremy Stoll worthy of the 2021 Phillip and Terri Schrager Distinguished Teaching Award.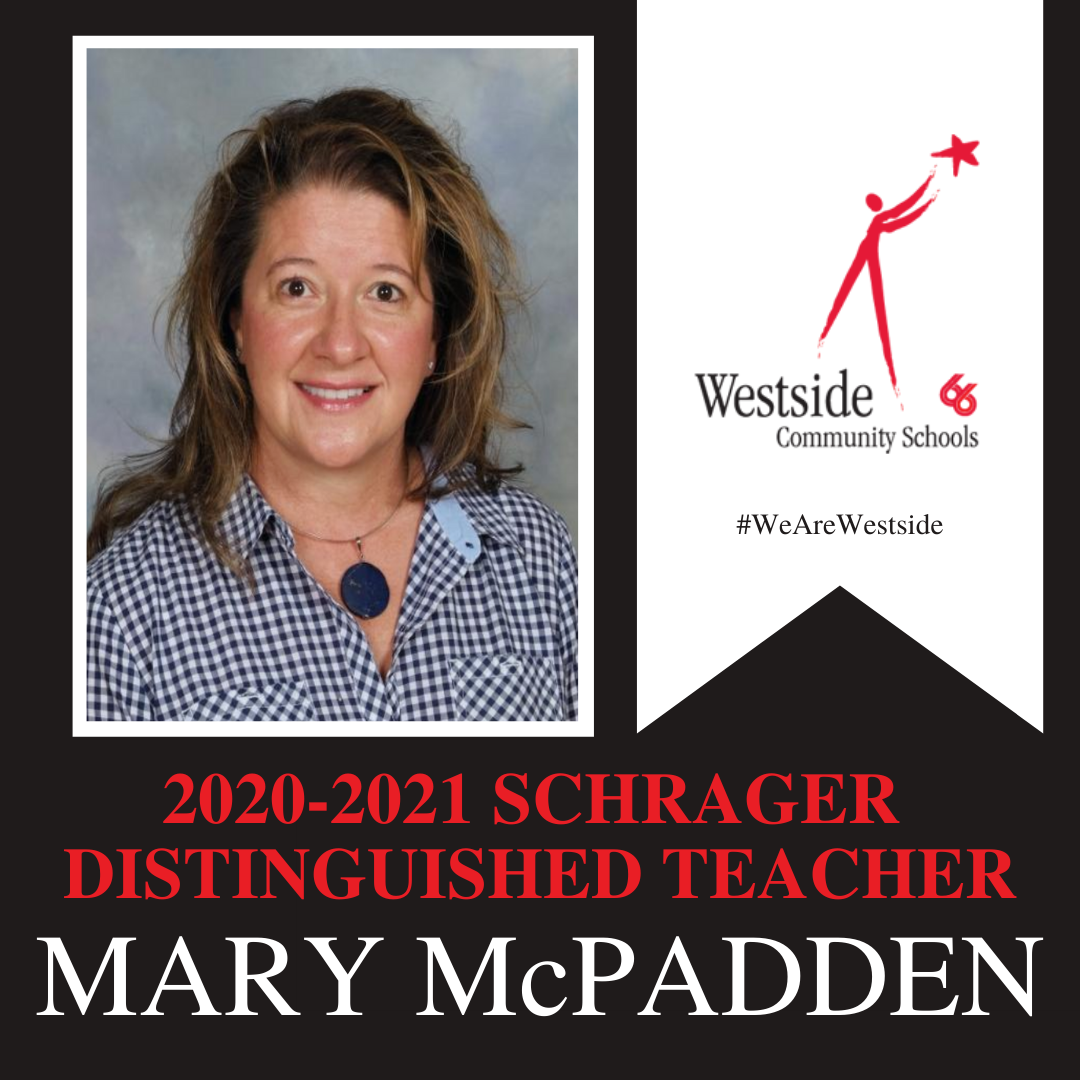 MARY McPADDEN, OAKDALE ELEMENTARY SCHOOL
Mary McPadden has dedicated her life and career to Westside students for more than 25 years. Currently serving as a Certified School Psychologist at Oakdale Elementary, Ms. McPadden has developed districtwide respect for her unparalleled work ethic and passion for developing the well being of her students and colleagues. Core priorities for this educator consistently focus on creating relevant, authentic learning experiences for students to ensure they grow socially and emotionally as well as academically. As challenges continue to evolve and change for children and adults, Ms. McPadden continuously revises lessons to ensure teaching models are up to date and meet the needs of today's young people. When a group of students were bystanders to video game bullying outside of school, she notably took the time to create a lesson for students, so classmates and others would be prepared to handle a similar situation in the future. That example is one of many in which she has helped cultivate a positive school and district culture and climate. Ms. McPadden is known for leaving inspiring messages on school bathroom mirrors such as 'You Got This!' and 'Be A Leader!'; she frequently emails school and district leadership to recognize achievements and good deeds she witnesses in her building; and she used her leadership role as Student Council sponsor to encourage students to create cards thanking custodial and kitchen staff for their work, establishing positive appreciation models for all throughout Oakdale Elementary.
Student safety and welfare is of the utmost importance for Mary McPadden. This teacher has been active with TeamMates, the Heartland Food Bank, Operation School Bell, and No Place For Hate. She has been instrumental in researching, piloting, designing, and implementing the district's elementary counseling curriculum. After learning of students with more significant mental health demands, this teacher designed supplemental lessons for individuals and small groups to meet those needs. Ms. McPadden was named the 2018 NSPA Outstanding School Psychologist of the Year, one of the highest honors school psychologists can receive. Particularly throughout the COVID-19 pandemic, Ms. McPadden has been repeatedly sought out as a source for advice and information to serve children, families and educators throughout the Omaha metro area. We are proud to call Mary McPadden a Schrager Distinguished Teacher for 2021.