Return to Headlines
District To Honor Alumni, Lighthouse Leaders on October 27, 2022
Posted September 22, 2022
Westside Community Schools, the Westside Alumni Association and the Westside Foundation will honor five Westside High graduates, and two dedicated community partners at the 2022 Westside Hall of Fame/Lighthouse Leader Gala on October 27.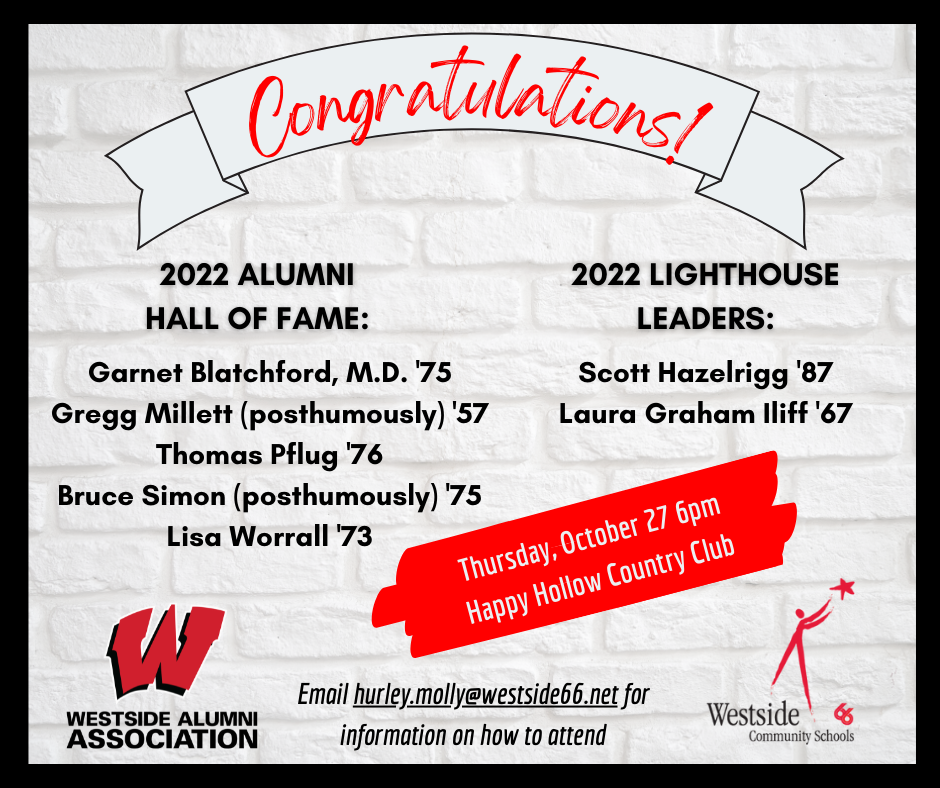 This year's Hall of Fame Inductees include:
DR. GARNET BLATCHFORD, Class of 1975
Dr. Garnet Blatchford is a pioneer for women hoping to pursue careers in medicine as physicians, researchers and administrators. As a student at Westside High School, Dr. Blatchford showed profound ability and dedication to medicine early on, then volunteering at Omaha's Bergan Mercy Hospital. She studied at the University of Nebraska Medical Center, and became only the fourth woman to complete the general surgery program. Dr. Blatchford has dedicated her life to Omaha children and adults, treating patients at seven different hospitals and health centers. She has also been an inspiration for future and fellow physicians, teaching at Creighton University and UNMC, and authoring countless presentations, publications and medical textbooks. Her work as a surgeon has led to multiple awards including 'The Best Doctors in America, Central Region', and 'America's Top Surgeons' notoriety. Her talent, hard work, and leadership are currently being utilized in her role as Vice President of Medical Affairs, Chief Medical Officer for Methodist Hospital and Methodist Women's Hospital; Dr. Blatchford is the first woman to hold this position. In addition to her dedication to medicine, Dr. Blatchford is an accomplished horsewoman and carriage driver and shares her passions as the President of the Eastern Nebraska Driving Society. She remains a devoted community leader as a member of the 4H Council and a Hope Medical Outreach Coalition volunteer.
GREGG BALDWIN MILLETT, Class of 1957
Gregg Baldwin Millett has traveled the world working to enhance the quality of life for and understanding of all individuals and cultures. Upon graduating from Westside High School, Millett attended some of the most prominent institutions in the country, including Dartmouth, the University of Nebraska, and Stanford. After teaching at the University of Austin, Millett decided to bring education and his abilities to the people of Nicaragua and Costa Rica. When he returned to the United States, Millett shifted his focus to newly single people determined to provide education and support for those facing new life challenges. His nonprofit, Singles Outreach Support, Inc, soon became recognized as the largest singles organization in the United States, serving some 5,000 members on the East Coast. Once again, Millett expanded his impact and focus, traveling across China to encourage friendship and understanding between two countries and cultures. He impacted thousands through his work with the Capital Region Today TV show, as well as photography exhibitions and public lectures, and was named 'Man of the Year' in Kunming China. When Millett died after battling cancer in 2016, an estimated 1,000 people from both the United States and China attended his Celebration of Life services. Those who know him best say Gregg Millett's life was well lived, with concern for his fellow man without reserve.
THOMAS PFLUG, Class of 1976
Thomas Pflug is an industry leader in accounting and finance, known for his dedication to business, family, faith and Westside. He is a true 'District 66 kid', attending Westside schools from Kindergarten to graduation (Hillside, Rockbrook, Valley View and Westside High School.) Upon graduation from the University of Nebraska-Lincoln, he began work as a Certified Professional Accountant with Touche Ross & Co, before moving to Houston for a position with Nortex Gas and Oil. When Tom and his wife, Dorothy, welcomed their first child, William, they moved back to Nebraska to raise their children with 'The Good Life!' Pflug quickly established himself as a financial expert in the Omaha metropolitan area, serving in multiple leadership positions with firms including Bridges Investment Counsel and Wallace R. Weitz & Co. As a Chartered Financial Analyst, Pflug was a key advisor overseeing the administration and reporting of investment partnerships and mutual funds. In 1992, he opened his own practice, Pflug Investment Management, later joining forces with an area colleague to establish Pflug Koory, LLC in 1999. In addition to a busy professional schedule, Tom and Dorothy have devoted their lives to the service of others, sharing their faith, resources and talents with organizations throughout the Omaha area. For nearly 40 years, the Pflugs have presented workshops on marriage and family, in addition to mission and church work; Tom has also volunteered with children's sports and activities, the Civil Air Patrol, Angel Flight, Pilots and Paws, and in 2006, formed Delivered Dental Services, a mobile dental clinic meeting the needs of underserved children and seniors. He has also served on the UNL Department of Finance Advisory Board, as well as the Westside Alumni Association Board, noting his gratitude for the formative opportunities and challenges that made his time at Westside an important part of his life story.
BRUCE SIMON, Class of 1975
Bruce Simon built upon a family legacy, making Omaha a household name across America synonymous with premium, memory-making cuisine. Many knew Simon as the fifth generation family owner of the Omaha Steaks groups of companies, the nation's largest direct response marketer of premium beef and gourmet foods. It was a career Simon had worked for since his childhood, whether he was accompanying his father to the plant to help assemble boxes, or spending summer vacations in high school learning every facet of the production process. After earning a Finance degree from the University of Pennsylvania and holding several positions throughout the company, Simon was named President and Chief Executive Officer in 1994. Through his experience and decisive leadership, Omaha Steaks experienced tremendous growth, with sales across the United States, 3-million customers, and more than 1,500 staff members. He shared his business knowledge with colleagues across the country, serving as a longtime member of the American Meat Institute and North American Meat Association. Throughout his career, Simon also remained dedicated to countless organizations and causes across the Omaha metro area, including the Omaha Performing Arts Society, Omaha Symphony, Joslyn Art Museum, Boys and Girls Clubs, Juvenile Diabetes Research Foundation, Multiple Sclerosis Society, American Heart Association and the Armed Forces Foundation. Bruce Simon died in February 2021, leaving his wife of 29 years, Stacy, two daughters, Talia and Ellie, and both a corporation and community greatly impacted by his dedication and determination to maintain his family legacy.
LISA WORRALL, Class of 1973
Lisa Worrall is a world-class educator dedicated to serving children and sharing their stories through art, large and small. After graduating from Westside, and earning degrees from both the University of Nebraska in Lincoln and Omaha, Worrall became a teacher, devoting her life to students for 36 years. 'Mrs. Worrall' taught 1st grade and special education; for 25 of those years, teaching at Prairie Lane in Westside Community Schools. As a hobby while she was teaching, Worrall began experimenting with greeting card design, making pieces for friends and family. Businesses began requesting and selling her whimsical, colorful work, inspired by the many children who touched her life. Iddy Biddy Boo Designs are now sold in museums, gift shops and bookstores across the country, and she is currently in production on needlepoint designs marketed to stores nationwide. When Worrall retired from teaching in 2013, she began public speaking, mentoring, Artist in Residency, and guest teaching for WhyArts, Inc, bringing the arts to underserved communities in Omaha. She is now sought out by foundations and organizations to collaborate and create; current partnerships include the Willa Cather Foundation, Biltmore Estate in Asheville, North Carolina, and the Munroe-Meyer Institute at the University of Nebraska Medical Center. The Munroe-Meyer piece, entitled A Place Where Everyone Belongs connects Worrall's passions for education, art, and inclusivity, and features one of her former students. She credits her experiences with Westside, starting as a student and 1973 graduate, for planting the seeds of both of her successful careers.
We will also honor two Lighthouse Leaders for their outstanding service and commitment to Westside:
Scott Hazelrigg, Class of 1987
Laura Iliff, Class of 1967
For more information, please contact communications@westside66.net.