Rockbrook Elementary School
Return to Headlines
October 13, 2020 | Free Meal Pickup Set For Wednesdays For Extended Campus Learners
Updated October 13, 2020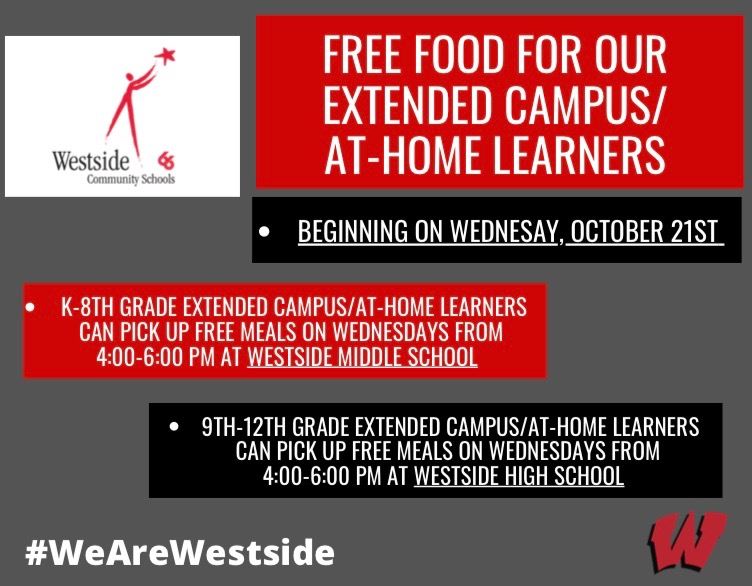 Beginning Wednesday, 10/21, when WCS goes to a full 5 days a week, we will transition all pick up meals for Extended Campus Learners to the following:
K-8 Extended Campus/At-Home Learners can pick up free meals each Wednesday from 4:00pm-6:00pm at Westside Middle School
9-12 Extended Campus/At-Home Learners can pick up free meals each Wednesday from 4:00pm-6:00pm at Westside High School
All students/parents/households picking up meals will receive breakfast and lunch or only lunch for five days.
***
Posted September 13, 2020
The USDA and NDE Nutrition Services have announced they will provide additional funding as an extension of the CARES act due to the COVID-19 pandemic,
NOW DATING BACK RETROACTIVELY THROUGH AUGUST 18.
All families will likely see a reimbursement appearing in their child's meal accounts;
nothing needs to be done to receive the benefits of this program.
Until further notice all Westside current K-12 students will receive breakfast and lunch meals for FREE. This opportunity will run through the end of the calendar year 2020 or until directed by the NDE Nutrition Services. All students, K-12, qualify. Meals included are all student meals served in Westside Community Schools as well as those meals taken home for extended campus learning. (Any extra servings, bottled water, or grab and go items above and beyond a complete breakfast and lunch will be charged accordingly.) We are hopeful this will help our students and families as we continue to navigate the COVID-19 pandemic.
We strongly encourage you, if you have not already, to fill out our Free/Reduced Meals Application. This could benefit your family when this extension ends.
CLICK HERE to review.
ALL STUDENTS at WESTBROOK and WESTGATE Elementary Schools receive FREE MEALS under the Nebraska Department of Education's Community Eligibility Provision. This will stay in effect for the entire school year.
Finally, please know we have additional resources available at Westside Community Schools to ensure our students and families are supported. If you would like to access the Westside Food Pantry or the Westside Clothing Closet, please contact your child's principal or Director of Student Services Robert Aranda at
Aranda.robert@westside66.net
. These resources are available to our families on an anonymous and private basis.