Welcome to Westside Community Schools
Return to Headlines
September 21. 2021 | Swanson Named National Blue Ribbon School
Posted September 21, 2021
Westside's Swanson Elementary Named A 2021 National Blue Ribbon School
Westside Community Schools is excited to share that Swanson Elementary School has been named a 2021 National Blue Ribbon School by the US Department of Education.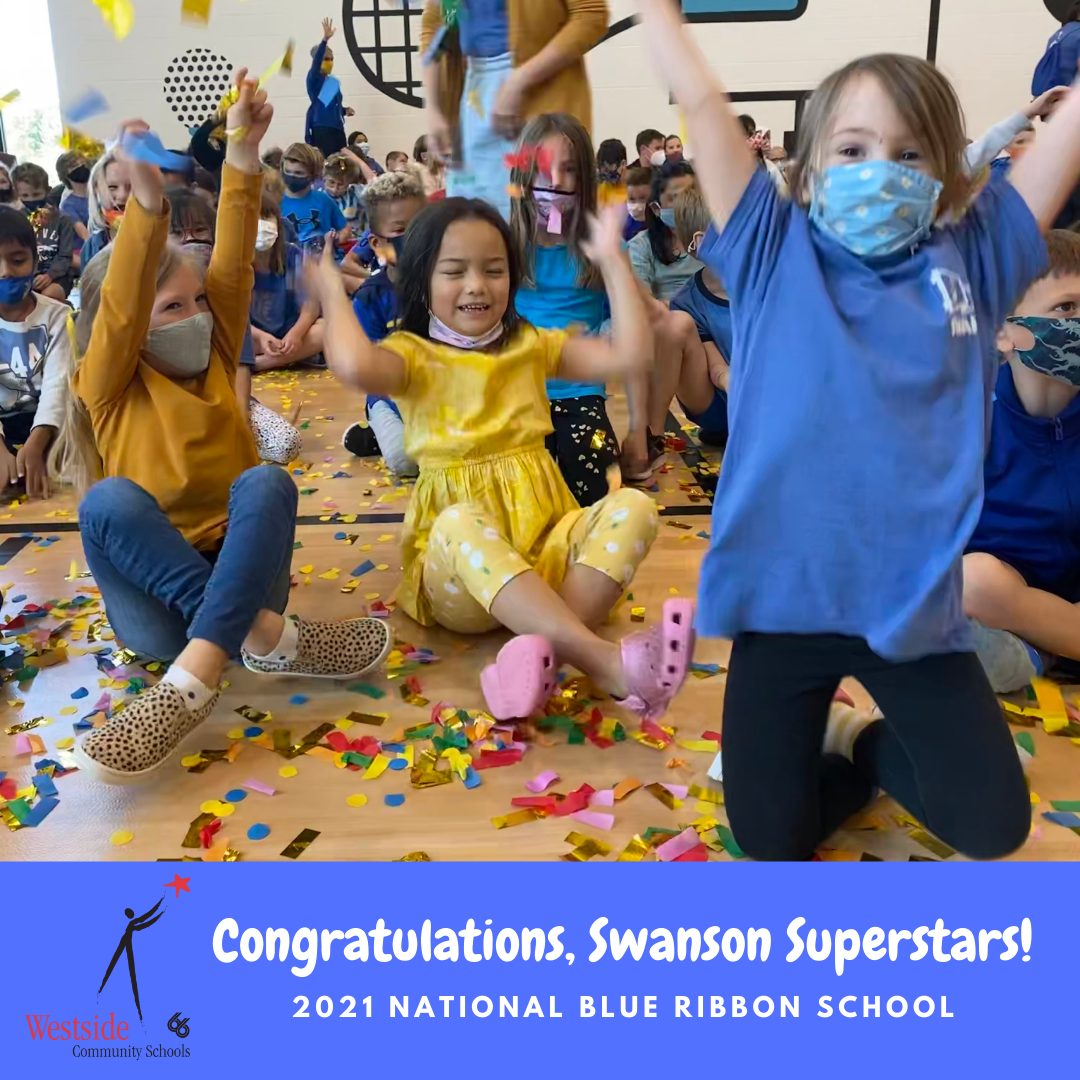 Swanson Elementary, located at 410 S. 86th St. in Omaha, is one of only five schools in Nebraska to be awarded this honor, presented each year based on a school's overall academic excellence and/or progress in closing achievement gaps among student subgroups.
"We are absolutely thrilled to receive this honor, but more importantly, to continue to see achievement and profound positive impact in our students and staff," said Jennifer Harr, Principal of Swanson Elementary. "We work every day to ensure when children come to school they feel loved and are happy, and that they are supported in every way possible to reach their full potential."
Rated 'Excellent' by the Nebraska Department of Education, Swanson Elementary is home to an award winning staff, a supportive school community, and a talented student body who work in tandem to achieve impressive results. Some of the activities that support and enrich Swanson's strong academic program are an after school running club, Unified Activities, and STEAM activities throughout the year.
"This is a great example of exactly what we want to see with our new Westside Strategic Plan; excellence in student achievement and well being," said Superintendent Dr. Mike Lucas. "We are thrilled that our hard work and dedication, not just at Swanson but throughout our district and community, are being highlighted and recognized at a national level. Swanson Superstars, we are proud of you!"
CLICK HERE to watch as District administrators and special guests announced to Swanson Elementary students they had won a 2021 National Blue Ribbon Award!
***

For additional information, please email Director of Communications & Engagement Brandi Paul at paul.brandi@westside66.net, or call 402-390-2131.