The District Strategic Plan was developed and shared in August 2021 and included the District's mission, vision, values, goals and strategies. At the onset of strategic plan committee meetings, members wanted to ensure that progress was regularly shared and reported to the community.

We encourage you to learn more about our Strategic Plan by clicking What Is A Strategic Plan in the box to the left; you can also review our full plan details by clicking Strategic Plan 2021-2026 in the box to the left.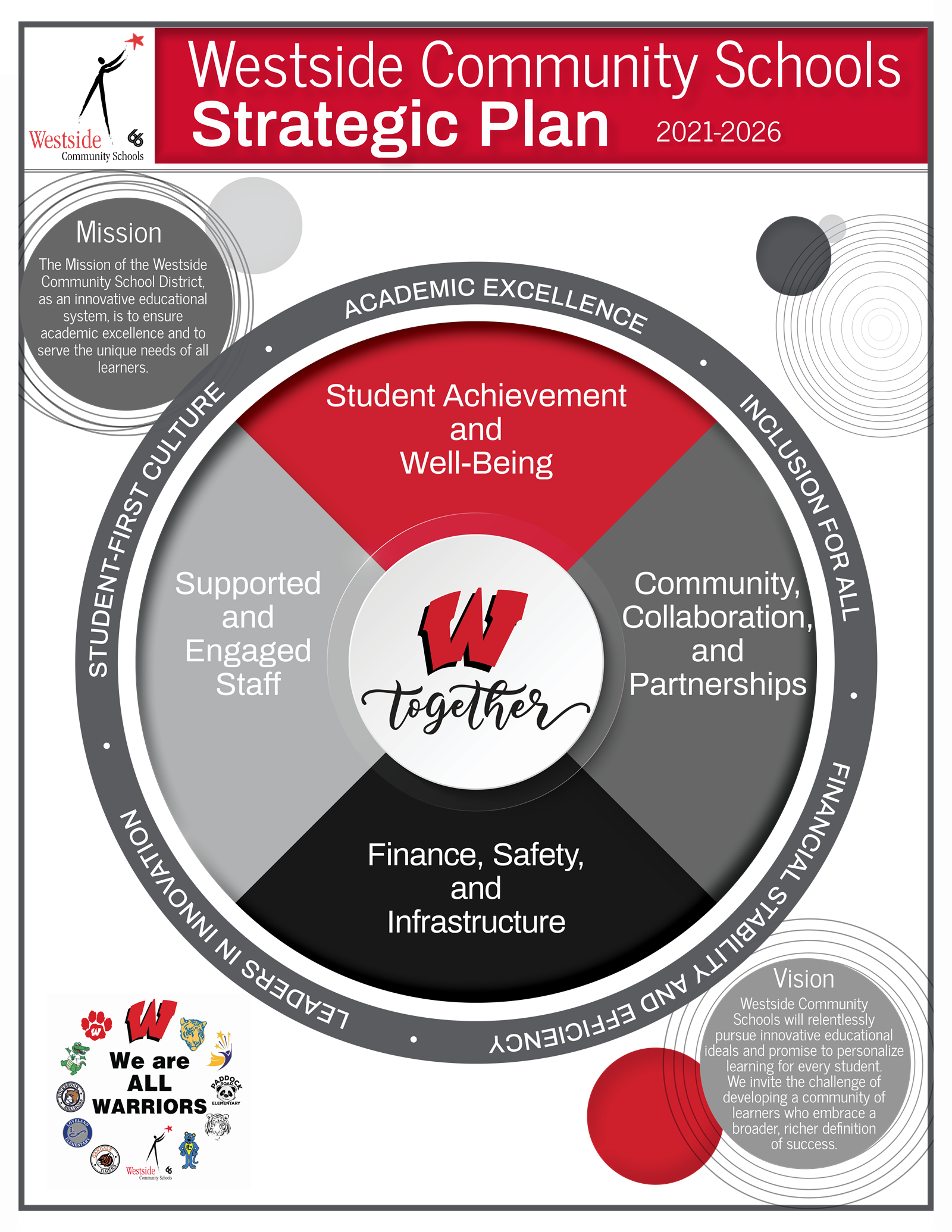 We also encourage you to bookmark this site, allowing you to view our progress. By clicking Dashboard on the left, all members of our community have a glimpse of how we are progressing toward our four goals and accompanying strategies over the next five years. This important tool was created in partnership with OnStrategy, a company specializing in transparent organizational accountability. As you navigate through the site, remember you are always welcome to contact a Director (CLICK HERE) or Senior Leadership Team member if you have any questions about this information. If you are unsure who to contact, please email communications@westside66.net.

Please note the following:

The dashboard is a thermometer representing our current reality.
The dashboard will be updated at least twice a year (typically January and June).
The green, yellow, red and gray symbols show the progress teams are making towards that current year's goal. They do not represent good or bad, simply progress.
Some strategies have one data point with sub-data points when you click on the strategy. The overall number represents the main data point, even though there are sub-data points that are included for more information. (Strategies 1.1, 1.6, 2.1, 2.5 and 2.6)
Some strategies have one data point with no sub-data points. This one data point will be what is used on the dashboard. (Strategies 1.2, 1.3, 1.5, 1.7, 2.2, 2.4, 2.7 and 3.2)
Some strategies have sub-data points that make up the overall score. OnStrategy identified these as 'roll-up' strategies. (Strategies 1.8, 3.1, 3.3, 3.4, 4.1, 4.2, 4.3, 4.4, 4.5 and 4.6)
Some strategies don't have a baseline yet and will come in Spring 2022 or beyond. (Strategies 1.4 and 2.3)

Thank you for your continued engagement and support!